FREE UPGRADE
The Power to Excite Is Now Available
for TrueVIS VG-640/540 Owners
Valuable Free Upgrade Provides Stunning Print Expression, Increased Reliability and Improved Usability
With the free upgrade of your current TrueVIS VG-640 / 540 inkjet printer/cutter, you can now take advantage of a new generation of TrueVIS Ink and many of the latest, most advanced functions of the recently launched VG2-640/540.
Thanks to TR2 ink, which boasts a wide color gamut, and a new "True Rich Color" preset which maximizes the potential of the VG-640/540 and the new ink capabilities, the VG-640/540 can now produce stunning graphics that excite both heart and mind. The free upgrade also adds improved printing and cutting accuracy as well as increased usability.
Brilliant Yet Natural Color
With the free upgrade, you can use new TR2 ink* and a new "True Rich Color" preset which takes full advantage of the VG's great color reproduction capability and the wide color gamut provided by new TR2 ink. Now vibrant color can be combined with neutral grays, smooth gradations and natural skin tones to create stunning graphics.
* VG does not support TR2 Orange ink. TR2 White ink is available in 250 ml.

Print with Confidence Supported by New Certifications
3M™ MCS™ Warranty

The VG with new TR2 ink is certified for long-lasting results by the 3M MCS Warranty, providing your customers with assurance of the quality and reliability of their graphics.

Avery Dennison ICS Performance Guarantee

The VG with new TR2 ink is also certified by the ICS Performance Guarantee which provides protection for up to 4 years for outdoor durability and up to 7 years for indoor durability. Avery has also set the recommended outgassing time at just six hours. This dramatically reduces the print and laminate timeframe.
Advanced Print & Cut Functions
With the free upgrade, you can obtain a host of new features to improve Print & Cut accuracy and usability.
New Crop Mark Features
Crop mark options are added for cutting laminated printed materials to provide more stable cutting performance.
Crop mark by row
Crop mark by image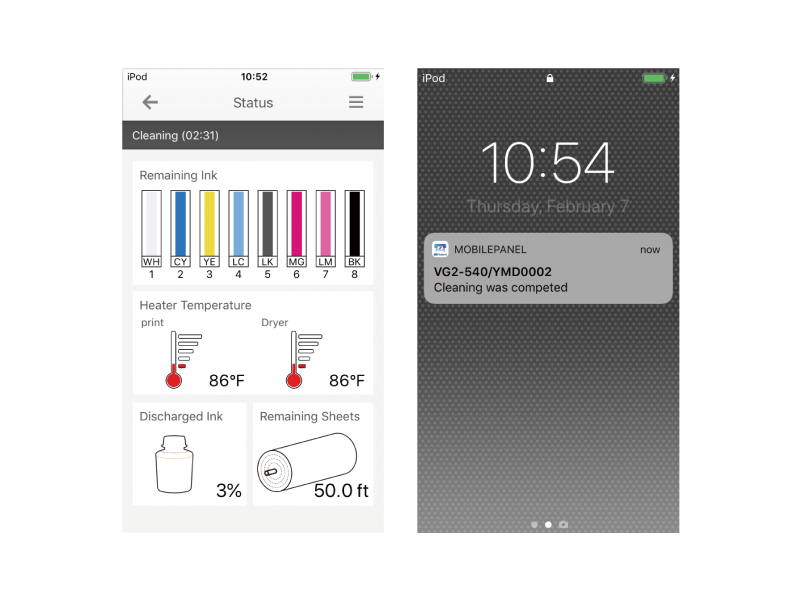 Advanced Roland DG Mobile Panel 2
The Mobile Panel, which remotely controls the VG series from a smartphone or tablet using a Bluetooth connection, has evolved into Mobile Panel 2. It lets you perform control panel functions, such as test printing and cleaning, as well as check the user manual from your smartphone or tablet.
New push notifications notify you of completion of printing or cleaning, which assists the operator when working away from the printer. Bluetooth connectivity has also been improved.
*Supports 6 languages (Japanese, English, Italian, German, Spanish, French)
Roland DG Mobile Panel 2 is available at App Store and Google Play.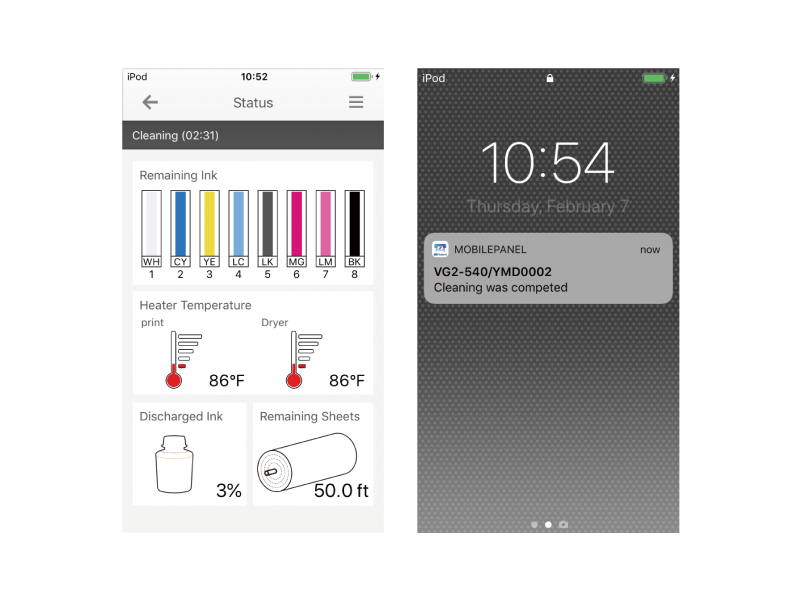 New Media Take-up System
A new TU4 media take-up unit supports two modes for improved take-up accuracy for various types of media. In addition to the conventional mode of taking up while always applying tension to the media, the TU4 supports a new mode of taking up while giving some slack to media such as PVC, which has high elasticity and a slippery back surface. Once there is slack, distortion of the media being taken up is eliminated to achieve stable take-up operation.
New Take-Up Mode
1. Media is printed and fed.

2. Media is not taken up immediately even when a dancer roller hits a lower sensor.

3. Media is taken up after a certain period of time according to the FEED speed.

4. When the dancer roller rises and hits the upper sensor, take-up operation is stopped.
Other Functions to Enhance Usability
Should a printhead clog, a new Nozzle Mask function allows you to continue printing while using the remaining printheads. In addition, you can also fine-tune the VG's job sequences, operation panel and maintenance procedures to enhance user experience and streamline the entire printing operation. The printer does not immediately detect the paper width even when media is inserted from the back and when a pinch roller down lever is pulled down (press ENTER to allow the printer to detect the paper width). As the temperature rises, the current temperature is displayed on the panel. Users can also turn off the print heater and dryer together. This feature is convenient when performing cutting only. The workflow of manual cleaning and the sheet cut sequence were improved to reduce waiting time.