Device Dashboard
Monitor your device activity to become more efficient with your print production.
An easy-to-understand, color-coded dashboard gives an instant view of your overall device statistics
Quickly monitor your ink usage per cartridge and printing volume timeline
Business Dashboard
Gain insights to your job profitability and costs to keep your business running in top shape.
Quickly calculate job costs and profits by entering the per-unit selling price and the cost for ink and media
Improve profitability by setting appropriate sales prices and increasing cost awareness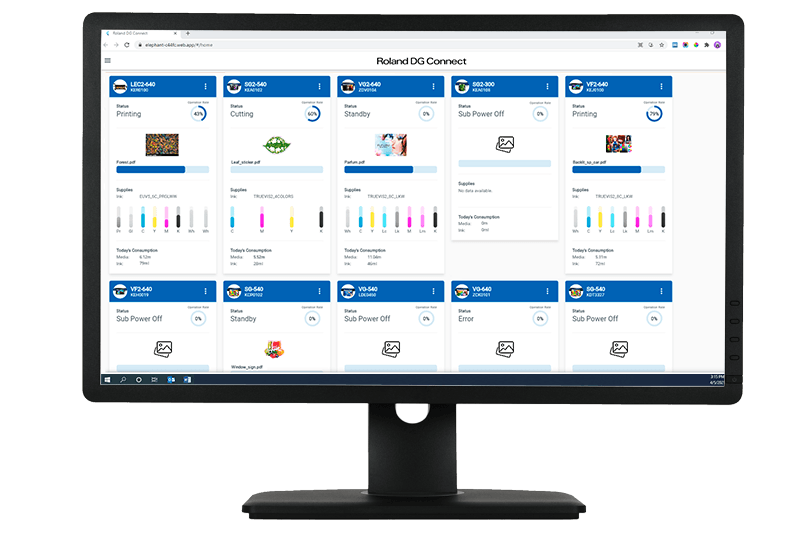 Monitoring Multiple Printers
Easily track the status of all your Roland DG devices in a single view to maximize productivity.
Check the operation of multiple printers in real-time, including job time remaining, ink and media consumption, operation rates and notifications
Monitor your print production to optimize efficiency and profitability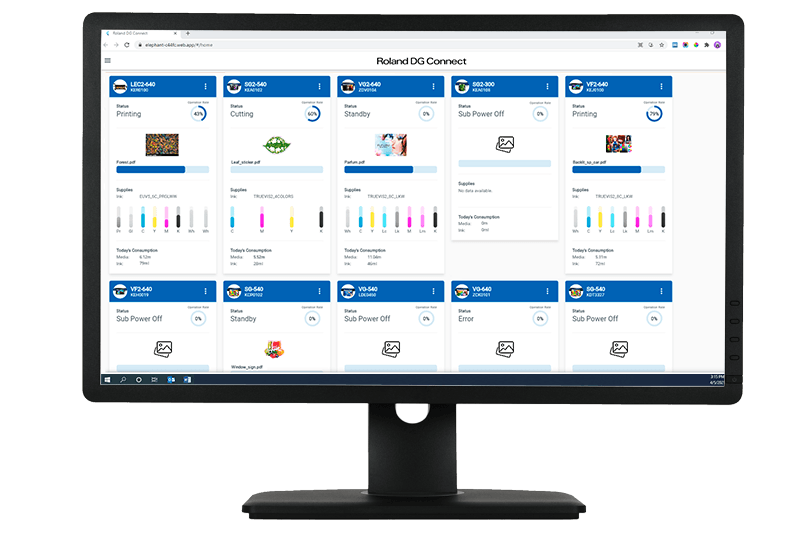 Health Check
Run your Roland DG device at an "A-grade" health for a more comfortable and stable operating environment that reduces downtime.
Monitor your print heads for manual cleaning frequency
View your wiper lifetime and the levels of liquid waste
The Roland DG Connect App for Everything Creative
Connect to your machine, production, and creative output with Roland DG Connect. As the app evolves and we add additional new features and functionality, you'll receive even greater access, allowing you to further expand your productivity and creativity.
Download the Roland DG Connect App
on Your Device
Monitor your Roland DG printer, keep it running at optimum print performance, and take your production with you with Roland DG Connect.
Start below to register and download on your desktop, phone or smart device:
STEP 1: DOWNLOAD & REGISTER
STEP 2: GET THE APP
* Compatible Roland DG Devices: TrueVIS VG2/SG2 Series, TrueVIS VG/SG Series, TrueVIS VF2‐640, VersaUV LEC2-330/LEC2-640, VersaUV LEC2 S‐Series.