How to get started in Roland DG Connect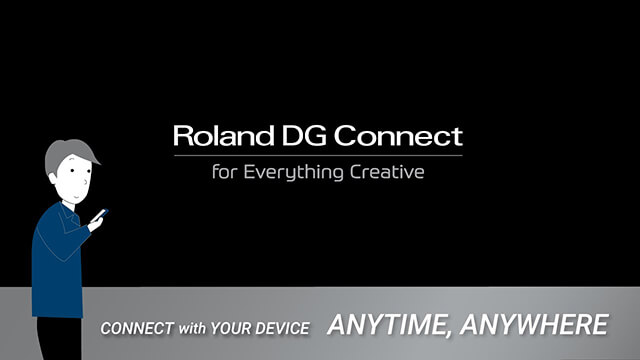 Choose from 3 Plans to Fit Your Business and Budget
STANDARD PLAN
FREE
VersaWorks 6
Automatic Backup
Single Device ViewDevice Statistics, Ink Usage
Combined Multiple
Device Views
Basic Machine
Operational DataSales and Cost Calculation
Single Graph Visualization
Detailed Machine Operational Data
Multiple Graph Visualizations
Track by Custom Days and Hours
Set Custom Target Operating Rates
Export Data for Custom Analysis
PROFESSIONAL PLAN
$29.99 /mo
$9.99

/mo
Now through Dec. 2023
VersaWorks 6
Automatic Backup
Single Device ViewDevice Statistics, Ink Usage
Combined Multiple
Device Views
Basic Machine
Operational DataSales and Cost Calculation
Single Graph Visualization
Detailed Machine Operational Data
Multiple Graph Visualizations
Track by Custom Days and Hours
Set Custom Target Operating Rates
Export Data for Custom Analysis
PREMIUM PLAN
FREE 30-DAY TRIAL
$49.99 /mo
$23.99

/mo
Now through Dec. 2023
VersaWorks 6
Automatic Backup
Single Device ViewDevice Statistics, Ink Usage
Combined Multiple
Device Views
Basic Machine
Operational DataSales and Cost Calculation
Single Graph Visualization
Detailed Machine Operational Data
Multiple Graph Visualizations
Track by Custom Days and Hours
Set Custom Target Operating Rates
Export Data for Custom Analysis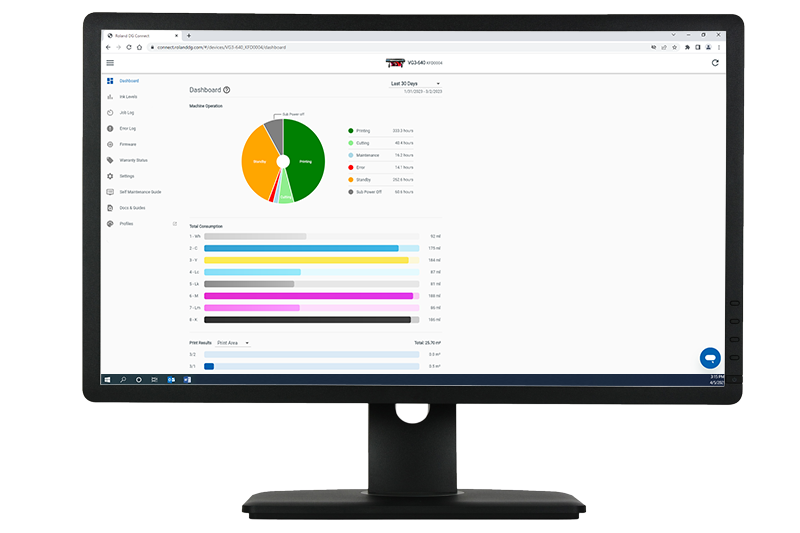 Device Dashboard
Monitor your device activity to become more efficient with your print production.
An easy-to-understand, color-coded dashboard gives an instant view of your overall device statistics
Quickly monitor your ink usage per cartridge and printing volume timeline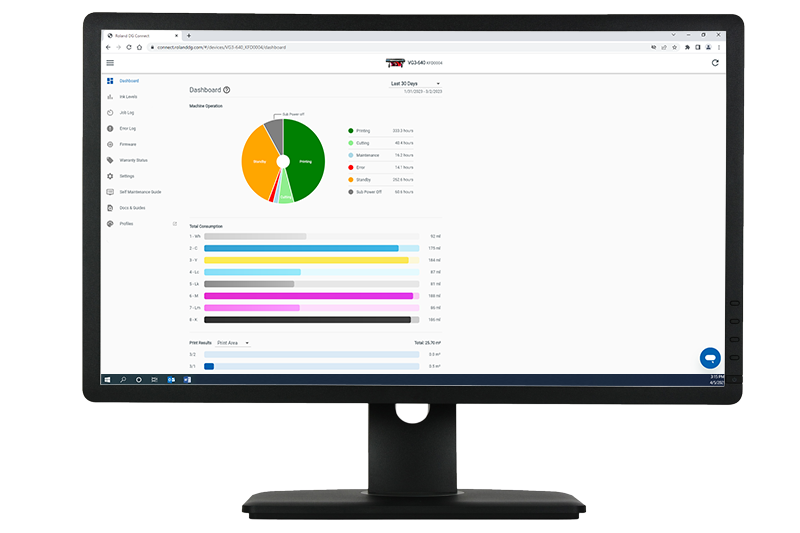 Business Dashboard
Gain insights to your job profitability and costs to keep your business running in top shape.
Quickly calculate job costs and profits by entering the per-unit selling price and the cost for ink and media
Improve profitability by setting appropriate sales prices and increasing cost awareness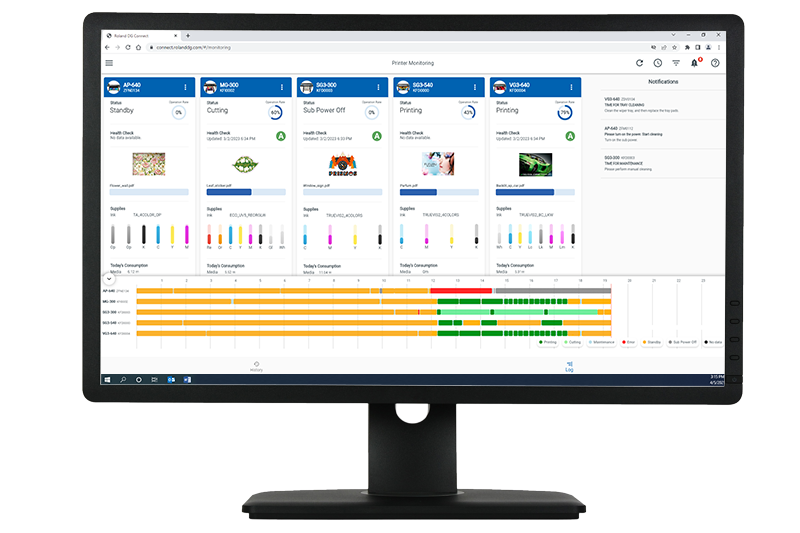 Monitoring Multiple Printers
Easily track the status of all your Roland DG devices in a single view to maximize productivity.
Check the operation of multiple printers in real-time, including job time remaining, ink and media consumption, operation rates and notifications
Monitor your print production to optimize efficiency and profitability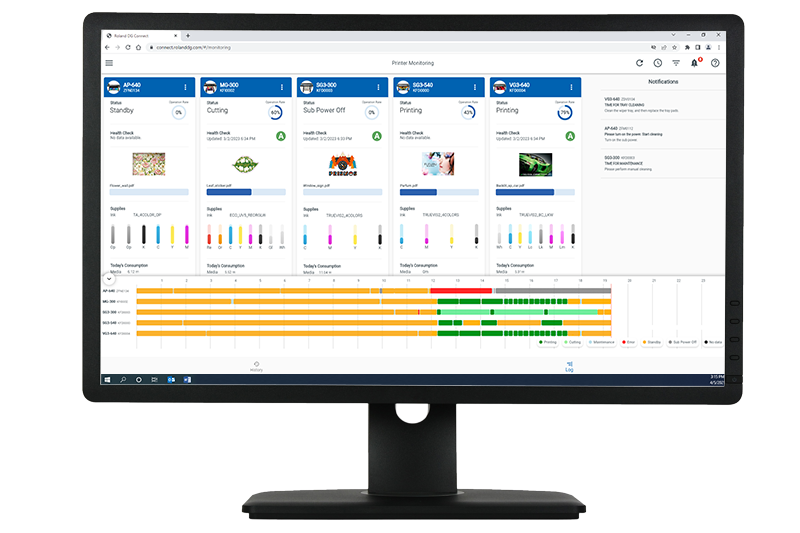 Health Check
Run your Roland DG device at an "A-grade" health for a more comfortable and stable operating environment that reduces downtime.
Monitor your print heads for manual cleaning frequency
View your wiper lifetime and the levels of liquid waste
Status and Updates
Firmware
Get notifications and links to update your firmware with a single click. Stay up to date with the latest firmware versions for stable operation, new features, and improved productivity.
Ink Levels
Know which inks need replenishing ahead-of-time and effectively plan your ink usage and budget. With an easy, color-coded view per pigment, you can monitor ink consumption per cartridge.
Notifications
Receive notifications that allow you to act quickly and ensure a smooth, seamless print operation.
Media Profiles
Instead of going to multiple places to find and download profiles for popular media, get them all in place you're already running your print operation from – directly in Roland DG Connect.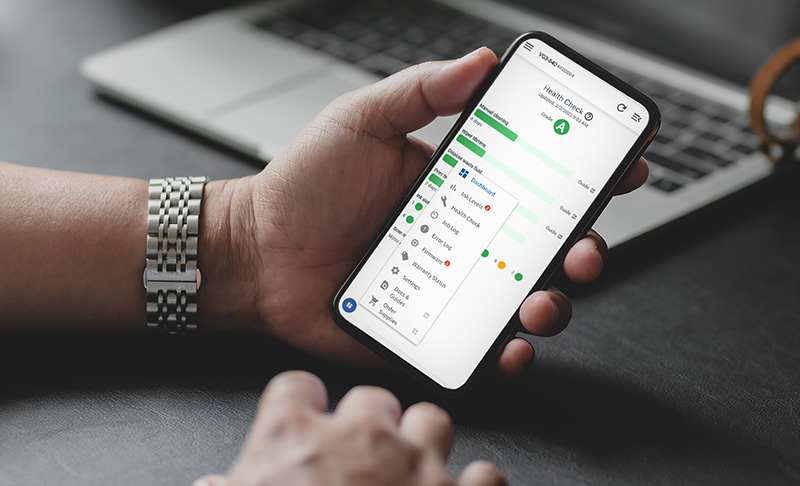 Tech Support Chatbot
We've built-in advanced capabilities to offer assistance in your printer operation - simply start a chat, and Roland DG Connect will provide you with solutions and recommendations, as well as links to additional resources.
Professional & Premium Plan
Features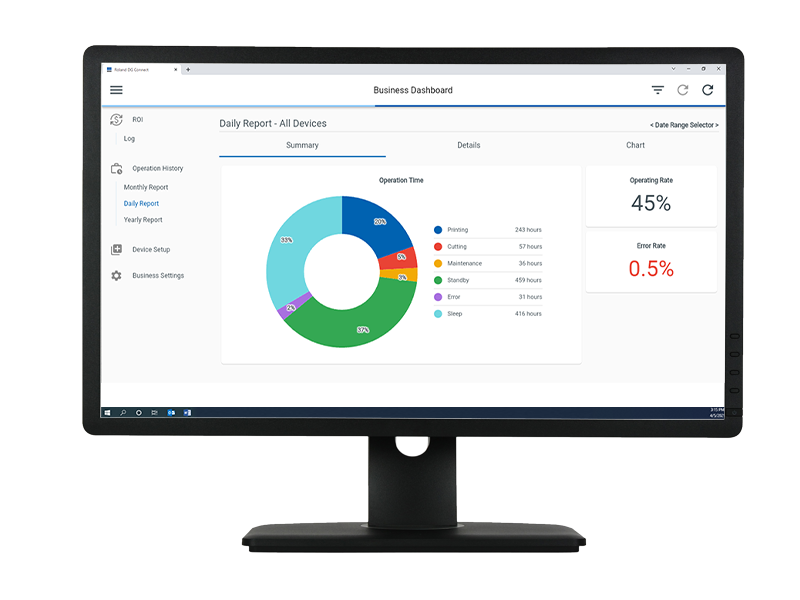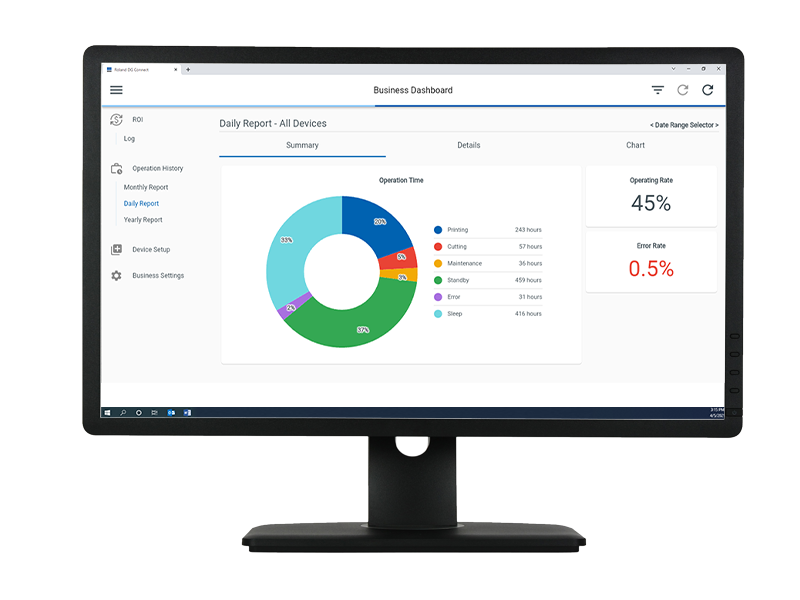 Advanced Dashboards
With Roland DG Connect Professional and Premium plans, your Business Dashboard views offer a wider range of analysis and insights for your business. Combine multiple devices into a single view, and choose from multiple visualizations. Track analysis by custom timeframes. Drill into details and set targets to take your print operation to the next level.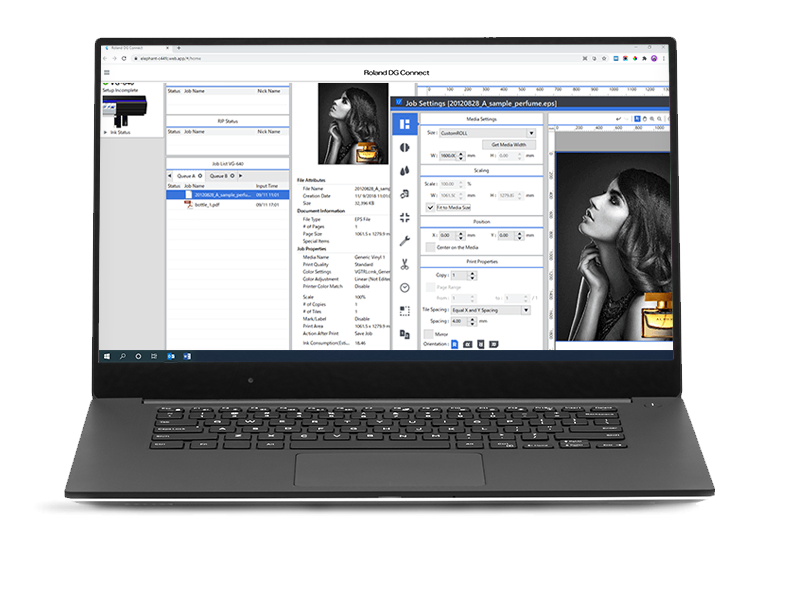 Automatic VersaWorks Settings Backup
As the world's most popular RIP software, VersaWorks is central to any Roland DG printer operation. That's why it's critical to ensure your VersaWorks 6 settings are safe and secure, especially in the event of a computer crash or system upgrade. With our Pro and Premium plans, your VersaWorks 6 print settings is backed up automatically, for easy access when you need it.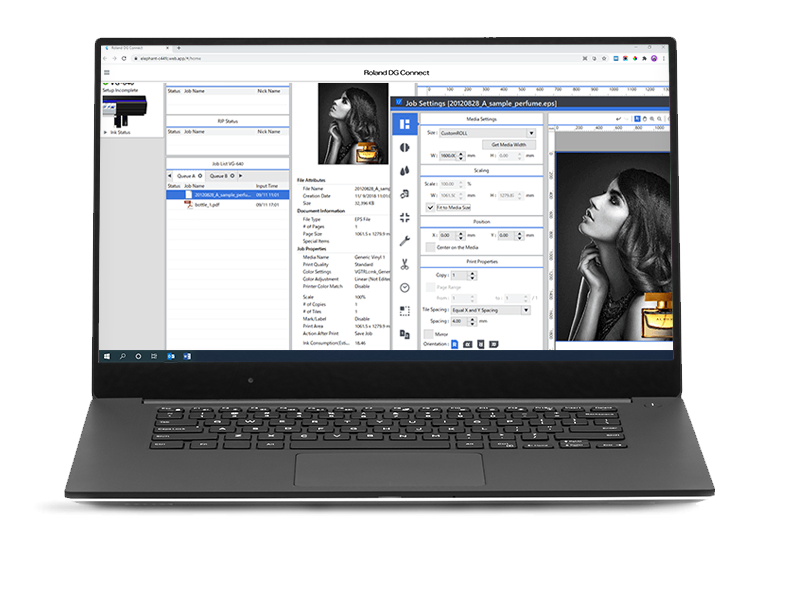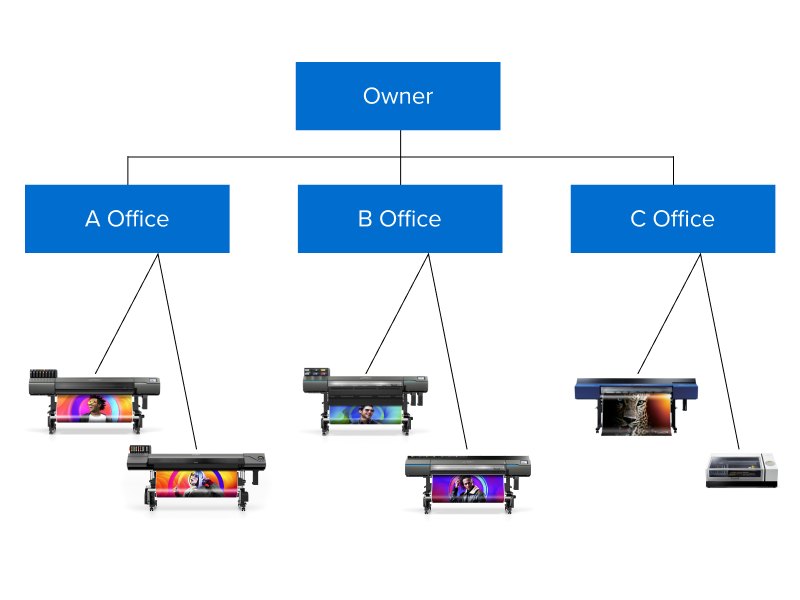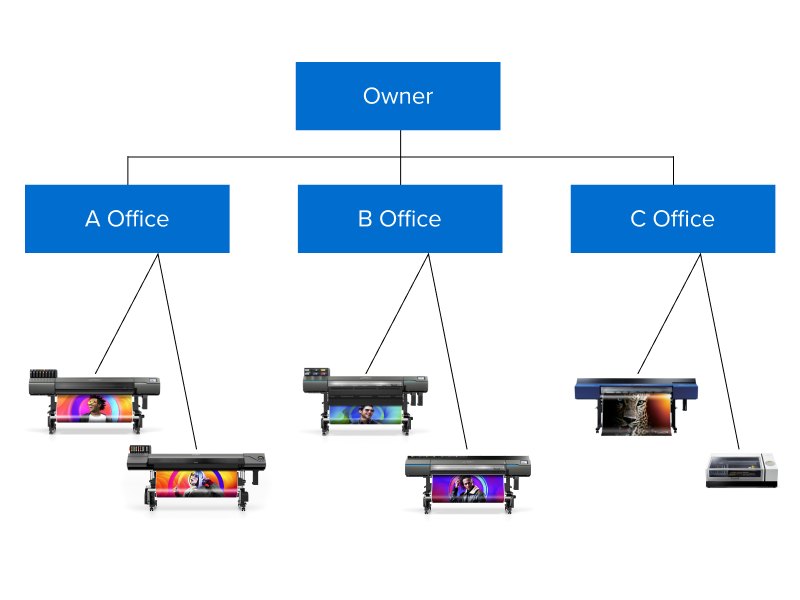 Multi-User
If your business has multiple users or locations that need visibility of your print operation, we have you covered. This makes it possible, for example, to centrally manage information on printers at multiple locations. This information can be used to formulate operation plans, improve supplies efficiency, and monitor and schedule maintenance across locations.
The Professional plan allows for up to 3 users to access your account, while Premium allows for up to 10 users.
The Roland DG Connect App for Everything Creative
Connect to your machine, production, and creative output with Roland DG Connect. As the app evolves and we add additional new features and functionality, you'll receive even greater access, allowing you to further expand your productivity and creativity.
Download the Roland DG Connect App
on Your Device
Monitor your Roland DG printer*, keep it running at optimum print performance, and take your production with you with Roland DG Connect.
Start below to register and download on your desktop, phone or smart device:
STEP 1: DOWNLOAD & REGISTER
STEP 2: GET THE APP
Download, registration and connection of devices(s) to desktop application is required prior to use of mobile app. See STEP 1.
* Compatible Roland DG Devices:
TrueVIS LG Series, MG Series, AP-640, VG3 Series, SG3 Series, VG2 Series, SG2 Series, VF2-640, VG Series, SG Series
VersaUV LEC2 Series, LEC2 S-Series, LEF2 Series, LEF Series, LEC Series
Texart XT-640, RT-640
SOLJET EJ-640, XR-640
VersaCAMM VS-i Series, SP-i Series
VersaEXPRESS RF Series
VersaSTUDIO GS2-24
DGXPRESS UG Series
VersaOBJECT CO Series
VersaSTUDIO BN-20 Series, BN-20D
Some functions of Roland DG Connect are not available for some models, please check
here
for details.