Family-Owned and Operated Shop Drives Into the Future
702 Graphics | Las Vegas, Nevada
How do you keep a great shop growing through several generations? Dan Lang and his son Brennan have operated 702 Graphics in Las Vegas, Nevada, since 2008. Brennan and his wife, Rachel, are now working to maintain 702 Graphics as a successful family owned and operated business for years to come.

Keeping the momentum going in a successful business over decades can be a challenge. We talked with Brennan and Rachel about how their shop remains successful and maintains the quality their clients have come to expect, despite operating with fewer employees than they've had in the past.

Tell us a bit about 702 Graphics' history.
Rachel Lang: 702 Graphics began as RC Racing Decals, founded in 1992 by Rick Cobb, son of legendary local racer, Dick Cobb. In 2008, after Rick moved to North Carolina, we purchased the assets of RC Racing Decals and rebranded as 702 Graphics.


Our original location was at the Las Vegas Motor Speedway in North Las Vegas, where we worked very closely with Shelby American. In late 2013, Shelby American moved their facility closer to town, just a few minutes away from the Las Vegas Strip. We followed them into town and are now located about five minutes from Las Vegas Boulevard.
"We continue to use Roland DG equipment because we truly believe they make the best equipment in the industry."
What is your shop like today?
Brennan Lang: We currently operate in a small industrial complex in Las Vegas, just east of the Harry Reid International Airport. We have an open workspace, which is pretty unique for our industry. When you walk in the front door, you walk straight into our design, printing, and production room. We've had multiple office configurations, and we've found that it is important for our customers to be able to come directly into our print room and see the work being done firsthand. We also have an install bay in the back of the shop which is just big enough to fit a 52-foot semi-truck trailer.

We are a small, family owned and operated business. We currently have four full-time employees and one part-time installer. Our team includes designers, installers, and operational staff. In the past, we've had up to 10 employees.

Something interesting about our company is that we are all-hands-on-deck. Everyone pitches in to help! It's not uncommon for our designers to be installing too. We've found that providing designers with installation experience helps them be more conscious of design choices that make the install process smoother and provide a better finished product. Our operational staff runs the day-to-day business, finances, and customer relations, but you'll also see them in the back of the shop installing from time to time.

With all the high-visibility vehicles you wrapped at the racetrack, how did you decide which printing equipment to use?
Brennan Lang: When we first took over operations from RC Racing Decals, we inherited their Roland DG SOLJET. We immediately added a second SOLJET, an AJ1000i, and a GX-640. We currently have three Roland DG devices: a TrueVIS VG2-540 54-inch printer/cutter, a SOLJET, and a GX-640 64-inch cutter.

We continue to use Roland DG equipment because we truly believe they make the best equipment in the industry. We've found that their printers and cutters are always reliable, don't require a lot of maintenance, and deliver the highest quality products for our customers.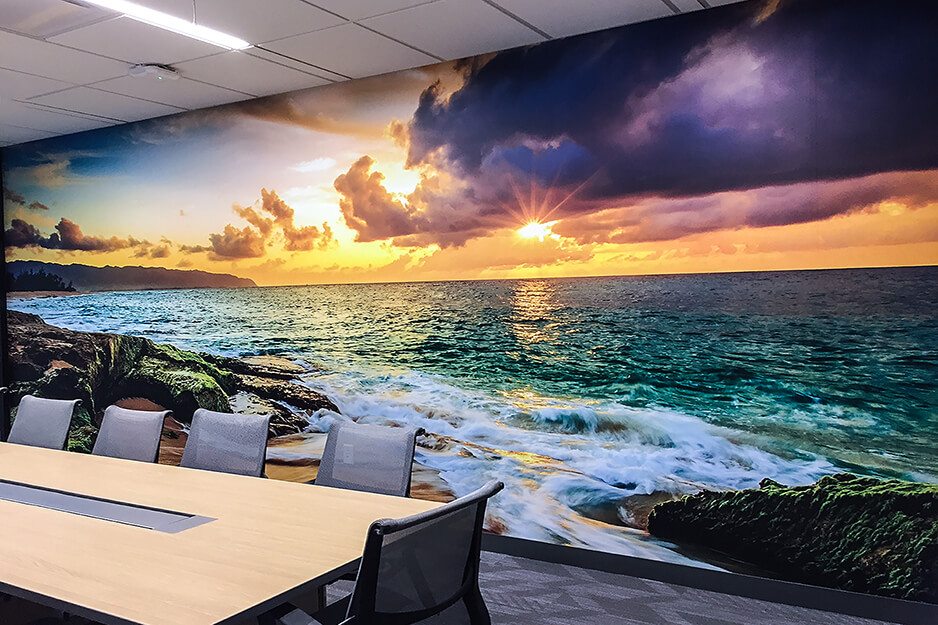 Our newest Roland DG printer, the TrueVIS VG2, was especially attractive because of its available color configurations. We are happy to have the Light Black ink option, as well as the wider gamut overall. We currently run it with an eight-color inkset that includes CMYK as well as Light Black, Green, Orange, and White.

What are some of your shop's specialties?
Brennan Lang: We specialize in fleet graphics, retail graphics and wall murals, but we are also a full-service large-format printing shop, providing interior and exterior signage, banners, trade show displays, and other graphics.

You have some very well-known clients!
Rachel Lang: Working in Las Vegas gives us a unique opportunity to work with some of the biggest brands of the world, as well as amazing locally owned and operated businesses. We've had the pleasure of working with brands like Skull Candy, Enterprise, Honest Company, and Century Link. We also work closely with locally owned businesses like Sunburst Shutters, Best Mattress, and Freed's Bakery, known for the Food Network TV show "Vegas Cakes." Recently, we had a fun yet challenging project for Raising Canes and the Las Vegas Raiders when we were asked to wrap a 10-foot-tall promotional cup.

We offer design, print, and installation services to businesses in Las Vegas. We also service some nationwide companies where we print and ship the graphics to our customers and source local installers to do the installations.
What kinds of requests are you getting for vehicle graphics?
Brennan Lang: Most of the requests we receive are for partial or full digitally printed vehicle wraps that promote the company and their brand. We rely on our Roland printers to achieve the best colors to make sure that our vehicles graphics stand out even more than the bright lights of Las Vegas do. We also service a large number of fleets, with the majority of our fleet clients asking for graphics on 10-25 vehicles.

Recently, we had a large fleet of 28-foot box trucks that needed to be wrapped on a very tight deadline. Because of the color consistency between our Roland DG printers, we were able to use both printers simultaneously to service the entire fleet. The print consistency allowed us to get the box trucks in and out in time to meet our client's deadline, while providing a high-quality final product.

What qualities do you think set 702 Graphics apart from your many competitors in the Las Vegas market?
Brennan Lang: The one thing that sets us apart is that we are a family-owned and operated small business. From concept to project completion and everything in between, we work directly with our customers every step of the way. We're passionate about the industry and take pride in every single job, no matter how big or small. Each client gets the same level of professionalism and customer service, regardless of whether they are brand new or an existing client. We also pride ourselves on using the very best equipment and materials, which is why we use Roland DG printers and cutters paired with 3M vinyl and laminate.

What do you see for the future of 702 Graphics?
Rachel Lang: We are going full steam ahead! We strive to provide the best customer service and highest quality product and being a small business allows us to do both. We have worked hard to build our reputation and know that being a family business has contributed to this goal. Even though we are a small shop, we still produce the same volume as larger shops. Our highly skilled team provides the creativity and talent, and our Roland DG printers and cutters provide the quality output we need to keep our shop humming.

We're extremely proud of the work we do, and we look forward to many more years in the industry.