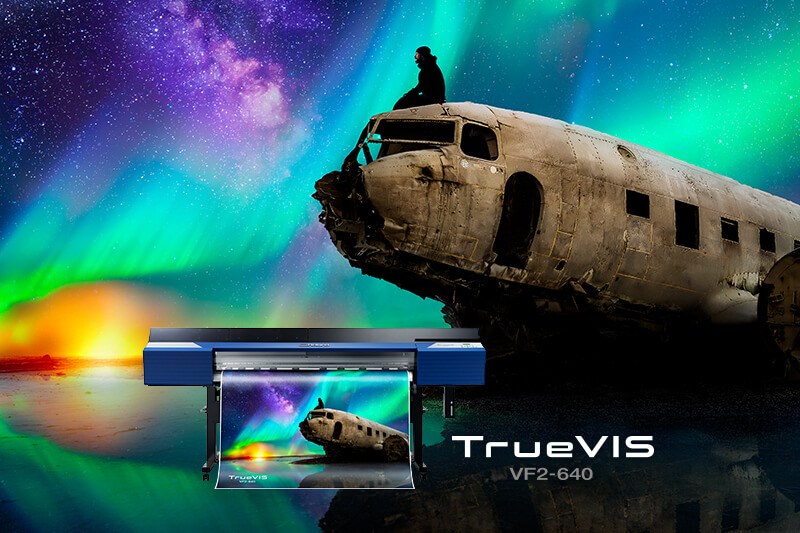 THE POWER TO EXCITE
Explore Uncharted Colors


NEW

VF2-640 Large-Format Inkjet Printer
Before developing out latest TrueVIS with the goal of exciting hearts and minds, we researched the ideal performance required for sign and graphics production. The result of our efforts is a brilliant combination of super vibrant TR2 ink with new Green and Orange and the "True Rich Color" preset that maximizes the potential of both printer and ink and enables you to explore uncharted colors for unprecedented gamut expansion, superior color accuracy, and the unique ability to achieve both vividness and natural reproduction at the same time.
The TrueVIS VF2-640 is the only printer that can offer the extraordinary Power to Excite.
Only TrueVIS VF2-640 printers allow you to produce high quality graphics with "the Power to Excite."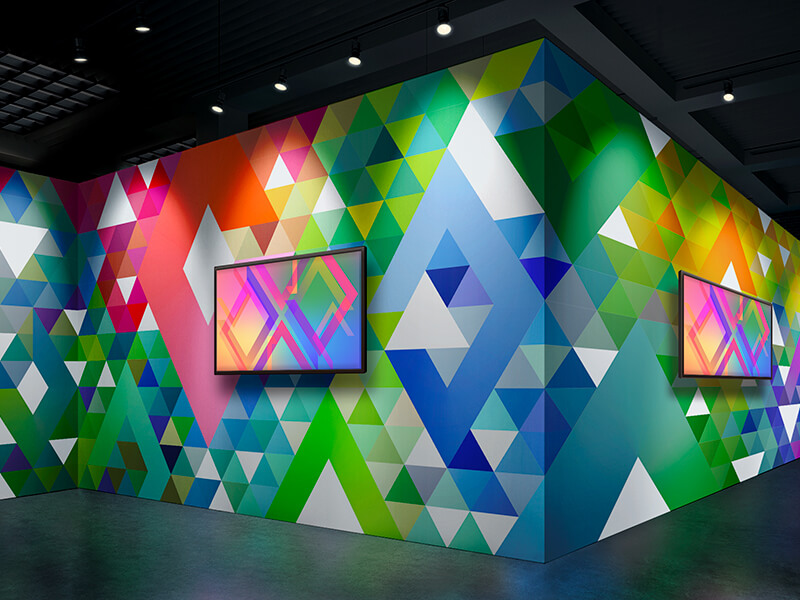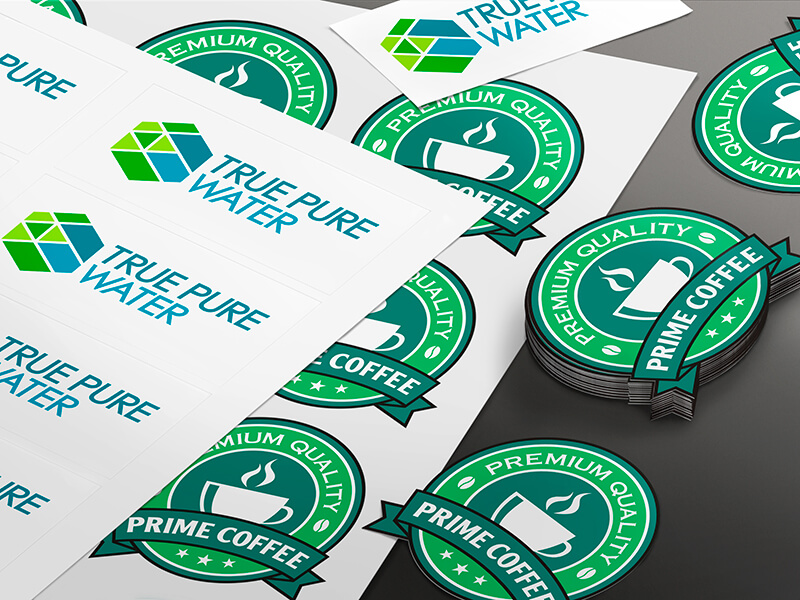 New TrueVIS TR2 ink for Vibrant Color
In addition to CMYKLcLmLk and White, new TR2 ink is now available in Orange and Green to further increase color gamut. Orange in general adds high visibility and impact to printed graphics and offers a warm and welcoming glow with positive emotions, while green adds natural comfort and relaxed confidence for smooth communications. To maximize the effect of these new color inks, a new Multi-Process Color Function has been developed to enable using Orange and Green inks as process colors for richer visual expression.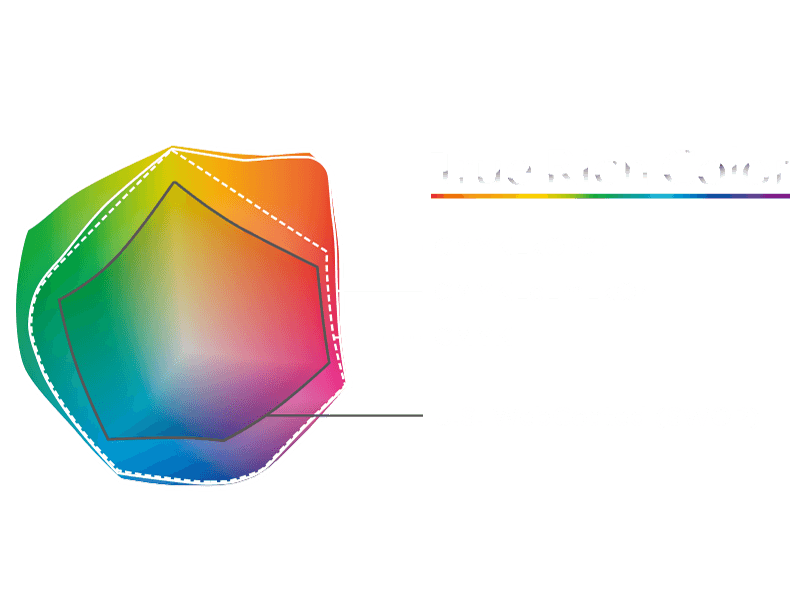 Enhance your Business with "True Rich Color"
In order to take full advantage of the VF2-640 superior color reproduction capability and the wider color gamut provided by new TR2 ink, we developed a new True Rich Color preset. Now vibrant color can be combined with neutral grays, smooth gradations and natural skin tones to create stunning graphics. This pioneering print quality is unequalled for durable graphics.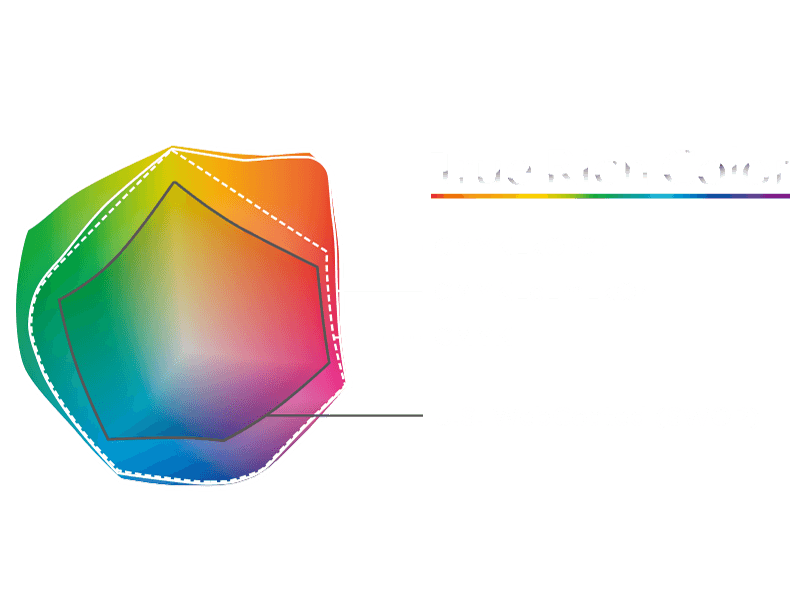 Quick and Easy Spot Color Matching
Standard colors such as Pantone® or DIC can be quickly matched with accurate results using the Roland Color System Library. With approximately 260 new spot color references for Orange to Red areas and Blue to Green areas now available, specific targets which had been regarded as unreachable or difficult to match can now be easily achieved.
Easily Handle Short Turn-Around Orders
FlexFire Printheads
Roland DG FlexFire printheads maximize printing performance so that even the highest speed setting delivers neutral grays, vivid colors, and smooth skin tones.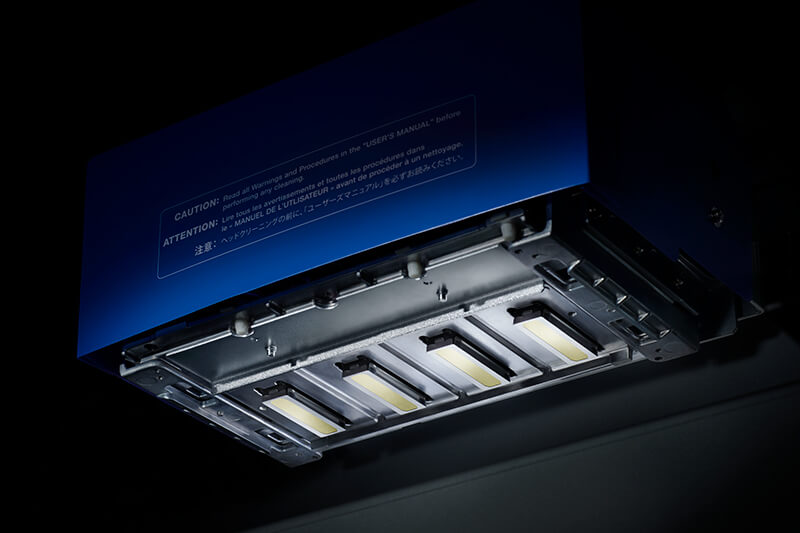 Two Take-up Modes

A new take-up unit supports two modes according to the type of media chosen, securing take-up stability for smooth post processing.

Nozzle-Mask Function

A Nozzle Mask function allows you to continue printing even when a nozzle is clogged with ink.

New Media Clamp

A new media clamp allows sheet cutting without removal.
Advanced Color Matching Function
A newly developed color matching function makes it easy to reproduce matching colors among multiple VF2-640 printers, as well as between TrueVIS Series VG2-640/540 printer/cutters, when the same ink types are used. The function is ideal for producing consistent colors when using multiple printers for high-volume jobs, or printing large graphics among several printers. It also compensates for color differences caused by aging printers or print head replacements.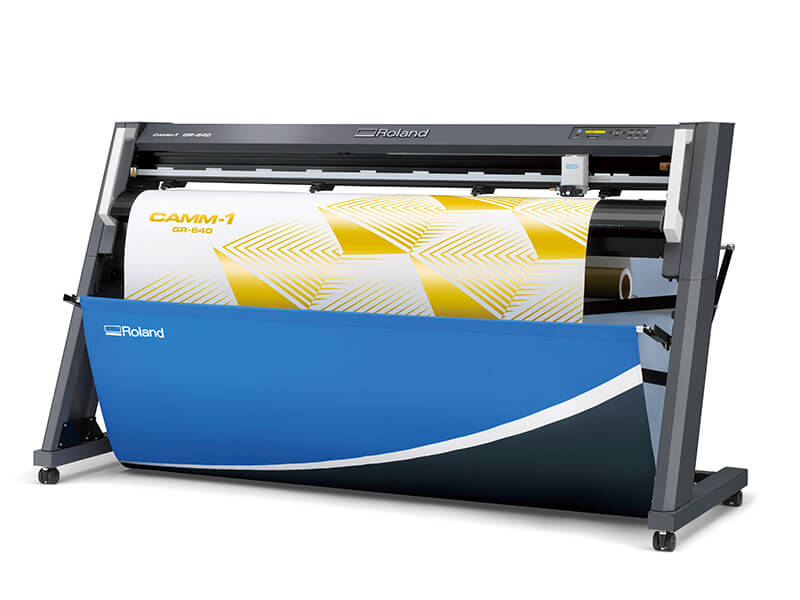 Efficient Printing and Cutting Workflow
For superior reliability, the VF2-640 is fully compatible when paired with Roland DG cutting devices, and print/cut data can be handled by VersaWorks 6 for efficient production of stickers and labels. The newly developed Job Assistant is also able to set and edit cutting lines in VersaWorks 6, making it a breeze to create stickers with complex shapes.
CAMM-1 GR Large Format Vinyl Cutters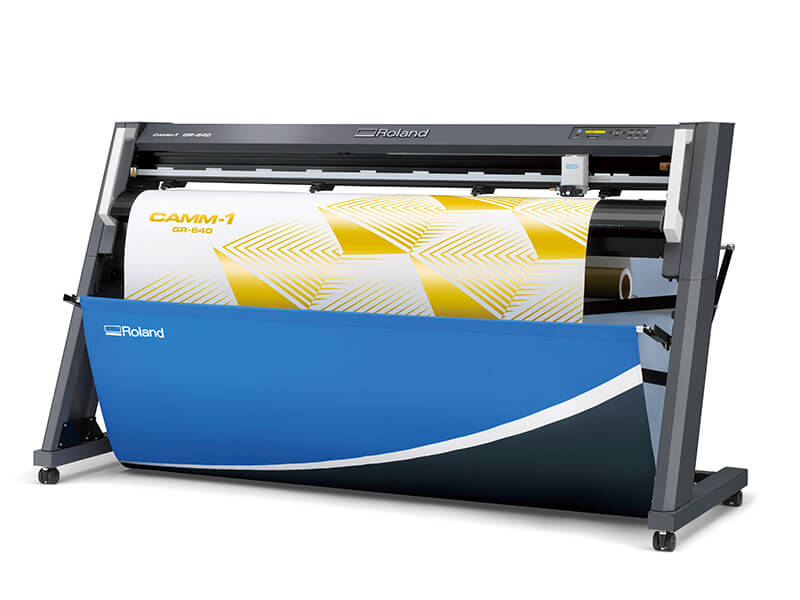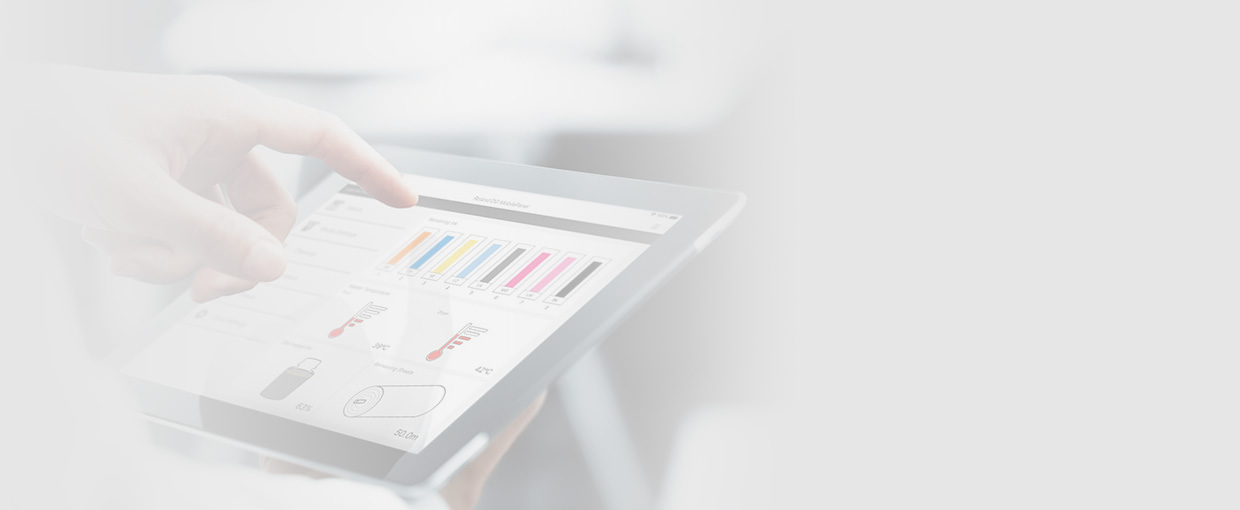 Smarter, More Seamless Operation
To enhance user experience and streamline the entire printing operation, we fine-tuned the VF2-640's design, job sequences, software functions, operation panel and maintenance procedures. In addition to the built-in control panel, the Roland DG Mobile Panel 2 lets you perform control panel functions, including test printing and cleaning, while checking the user manual from your smartphone or tablet using a Bluetooth connection.
Reliability, Durability and Safety
The VF2-640 with new TR2 ink is certified for long-lasting results by 3M™ MCS™ Warranty, providing your customers with the assurance of the quality and reliability of their graphics.
More information about 3M™ MCS™ Warranty
The VF2-640 with new TR2 ink is also certified by the Avery ICS Performance Guarantee which provides protection for up to 4 years outdoors and up to 7 years indoors.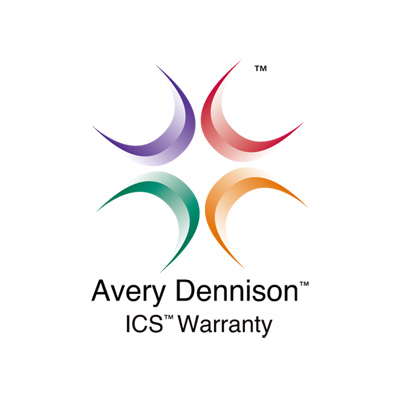 More information about Avery ICS Performance Guarantee
In addition, the VF2-640 with TR2 ink is certified GREENGUARD Gold for safe indoor graphic applications.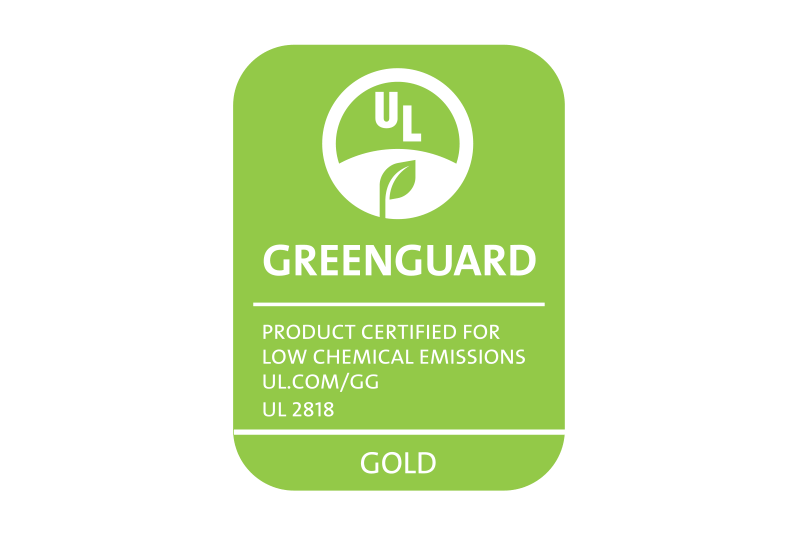 VersaWorks 6 to Accelerate your Printing Business
The new VersaWorks 6 bundled RIP software is designed to simplify operation while maximizing the power of your VF2-640 and other Roland DG devices. Features include:
A Harlequin RIP dual-core engine with support for PDF 2.0 and native 64-bit processing provides accurate rendering of PDFs with shadows and transparencies
Five print queues and the ability to save and store unlimited queue settings
Special Color Plate Generation lets you auto-generate White ink layers
Newly developed Job Assistant function can layout and edit required cutting lines in VersaWorks 6
Built-in Pantone® and Roland Color spot color libraries
TrueVIS VF2-640


VF2-640
Printing method
Piezo ink-jet method
Media
Width
259 to 1,625 mm (10.2 to 64 in.)
Thickness
Max. 1.0 mm (39 mil) with liner

Roll outer diameter
Max. 210 mm (8.3 in.)
Roll weight
Max. 40 kg (88 lb.)
Core diameter (*1)
76.2 mm (3 in.) or 50.8 mm (2 in.)
Printing width (*2)
Max. 1,615 mm (63.6 in.)

Ink
Type
TrueVIS INK 500 ml pouch (only white 250 ml)

Colors
8 colors (Cyan, Magenta, Yellow, Black, Light Black, Orange, Green, and White)
8 colors (Cyan, Magenta, Yellow, Black, Light Cyan, Light Magenta, Light Black, and White)
8 colors (Cyan, Magenta, Yellow, Black, Light Cyan, Light Magenta, Light Black, and Orange)
7 colors (Cyan, Magenta, Yellow, Black, Light Black, Orange and Green)
4 colors (Cyan, Magenta, Yellow, and Black)

Printing resolution (dots per inch)
Max. 1,200 dpi

Distance accuracy (*3)
Error of less than ±0.3% of distance traveled or ±0.3 mm (±11.8 mil), whichever is greater.
Media heating system (*4)
Print heater set temperature: 30 to 45°C (86 to 112°F)
Dryer set temperature: 30 to 50°C (86 to 122°F)
Connectivity
Ethernet (100BASE-TX/1000BASE-T, automatic switching)
Power-saving function
Automatic sleep feature
Power requirements
AC 100 to 120 V ±10%, 8.0 A, 50/60 Hz or AC 220 to 240 V ±10%, 4.1 A, 50/60 Hz
Power consumption
During operation
Approx. 1,090 W
Sleep mode
40 W
Acoustic noise level
During operation
63 dB (A) or less
During standby
53 dB (A) or less
Dimensions (with stand)
2,945 (W) × 730 (D) × 1,310 (H) mm (116 [W] × 28.8 [D] × 51.6 [H] in.)

Weight (with stand)
200 kg (440.9 lb.)
Environment
During operation
Temperature: 20 to 32°C (68 to 90°F), humidity: 35 to 80% RH (no condensation)
Not operating
Temperature: 5 to 40°C (41 to 104°F), Humidity: 20 to 80% RH (no condensation)
Included items
VersaWorks 6 RIP Software, Dedicated stands, power cord, media holders, replacement blade for separating knife, cleaning liquid, drain bottle, user's manual, etc.
*1 The media holders of this machine are designed to be used exclusively with media that has a paper tube (core) with an inner diameter of 3 inches. To use 2-inch media, the optional media flanges are required.
*2 The length of printing is subject to the limitations of the application software.
*3

Media type: Media specified by Roland DG Corporation
Temperature: 25°C (77°F), humidity: 50%RH
Roll media must be loaded correctly.
Excluding expansion/contraction of the media
Not assured when the print heater or dryer is used.
Assumes all correction and adjustment functions of the machine have been used properly.
Print travel: 1 m (39.4 in.)

*4

Warm-up is required after power up. This may require 5 to 20 minutes, depending on the operating environment.
Depending on the ambient temperature and the media width, the set temperature may not be reached.
VersaWorks 6 System Requirements

| | |
| --- | --- |
| Operating System | Windows® 10 (32/64-bit), Windows® 8.1 (32/64-bit) |
| CPU | Intel® Core™ 2 Duo, 2.0 GHz or faster recommended |
| RAM | 2 GB or more recommended |
| Video card and monitor | A resolution of 1,280 x 1,024 or more recommended |
| Free hard-disk space | 40 GB or more recommended |
| Hard-disk file system | NTFS format |
| Other | Internet connection recommended |