UV Printers and Printer / Cutters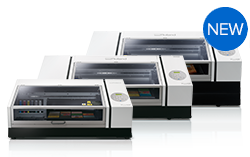 On demand customization on a wide variety of products and substrates
Includes three models with different work sizes and printing speeds
Print directly on materials up to 100 mm thick and 508 mm × 330 mm for LEF2-200, and 770 mm × 330 mm for LEF2-300
An LEF2-300D which supports materials up to 200 mm thick is also available
Optional Primer ink cartridge for better ink adhesion on difficult substrates
ECO-UV ink in CMYK plus Clear (gloss) and White for unique effects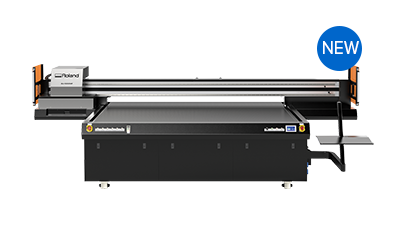 Offering high-quality printing and unmatched support at a great price and productivity level that will appeal to a wide range of customers.
Print directly onto 4' x 8' media boards with a 95 mm height clearance.
Equipped with six printheads in a staggered array for printing up to 27.6m2/h in 720 x 600 dpi CMYK mode.
Inks : CMYK plus White and Gloss
Ideal for a large variety of applications, including sign graphics, event and store displays, décor, and small-lot/ high-mix custom goods.
NEW
High-speed printing for maximum productivity.
Highly precise print expression.
Broad media compatibility.
Fast drying print for quick turnaround and finishing.
Speciality printing for textures and effects.