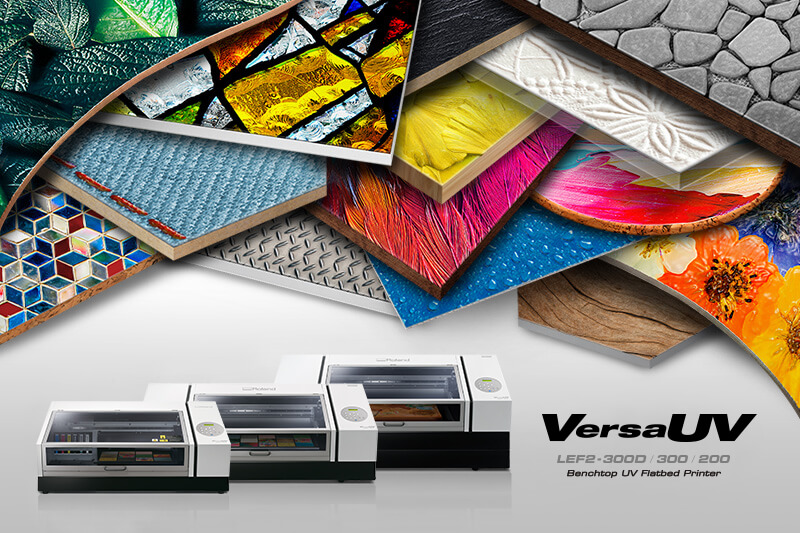 NEW

LEF2-300D
LEF2-300, LEF2-200 Benchtop UV Flatbed Printer
Benchtop UV Flatbed Printers Expand Your Imagination
With superior ease and efficiency, you can print brilliant color and realistic textures for amazingly lifelike graphics plus premium finishes including simulated embossing on almost anything. Now available in a choice of three models featuring different work areas and heights in a stylish form factor, the LEF2 series will redefine your business.
On-Demand Printing on One or Many Items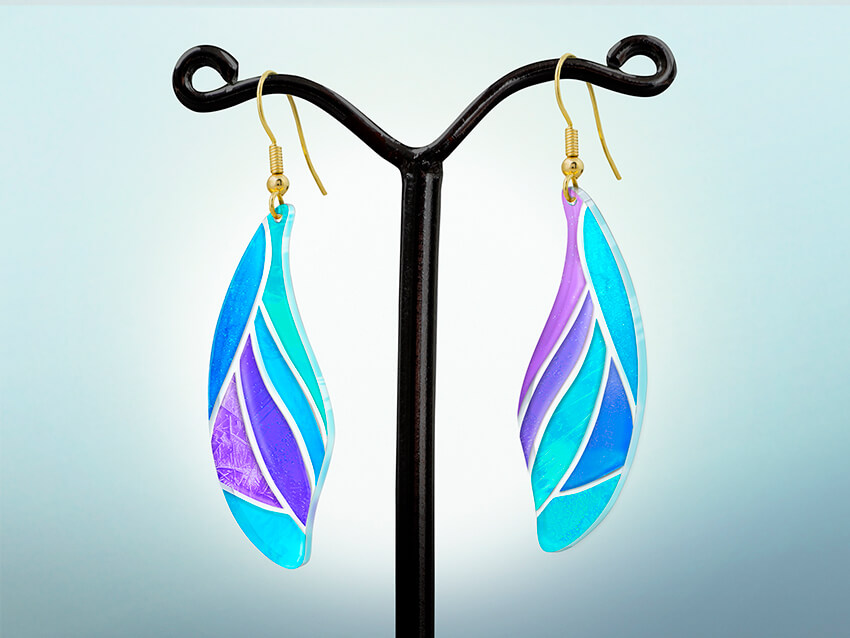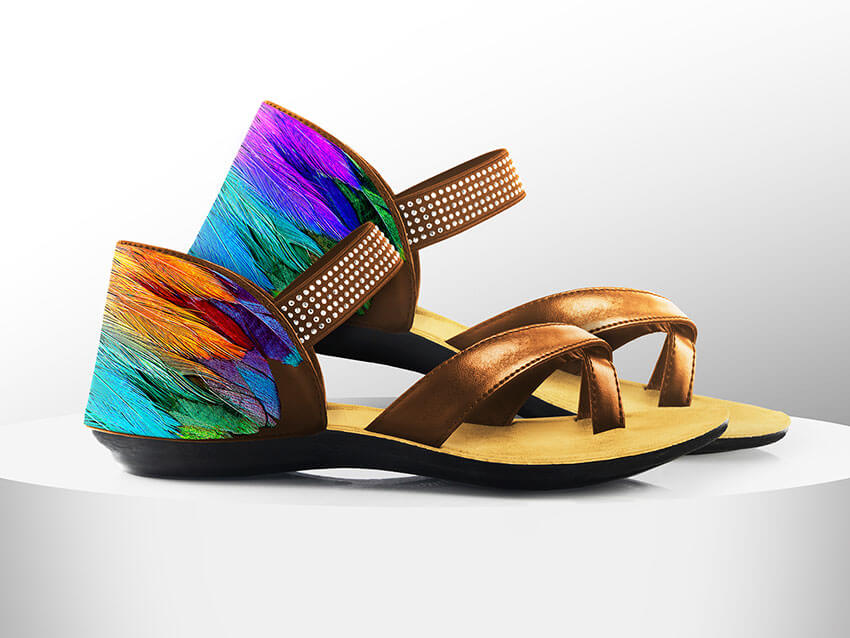 Print Directly on a Wide Range of Materials
Unlike other inkjet printers, the LEF2 series employs UV-LED lamps to instantly cure ink on the surface of material with UV light, allowing you to print directly onto PVC and plastics, canvas, wood, leather, fabric, and more. Now the addition of Primer ink opens up the possibility of printing on an even wider variety of materials.
True-to-Life Prints Created by Exceptional Image Quality and Special Effects
With the VersaUV LEF2 series, you can produce photos, graphics and finely-detailed text with unmatched print quality. In addition, the LEF2 series enables printing amazingly lifelike textures and simulated 3D embossing as well as gloss and matte finishes by overprinting multiple layers of Clear ink and changing the timing of UV light irradiation.
As well as CMYK and Clear inks, White ink is also available to ensure that colors pop on dark or clear substrates.
Multi Layered Printing
Gloss Finish
Matte Finish
On-Board Primer Makes Printing on Difficult Materials Easy
Previously, when you wanted to print on a material that ink doesn't easily adhere to, it was necessary to manually apply a primer coat. To shorten the production process, the LEF2 series features an optional on-board Primer* cartridge for priming objects quickly and conveniently on a variety of different materials. Users can easily prepare an object for customization by first printing Primer ink directly from the VersaWorks software before printing full-color graphics. The possibilities of UV printing can now be expanded to an even wider variety of materials.
* For best primer results, it is strongly recommended that users test for adhesion on specific substrates prior to final production.
From Hard to Soft Materials and From Flat to Curved Objects
Capable of stretching around the most complex corners and curves as well as printing on soft materials such as leather and fabric, advanced Roland ECO-UV ink formulations are designed for both flexibility and beautiful imaging. With the LEF2-300/200, materials up to 100 mm (3.94 in.) thick can be loaded, and a height tolerance of 2 mm facilitates printing on irregular and curved objects. Furthermore, the new LEF2-300D supports a maximum thickness of 200 mm (7.87 in.) in the height direction, allowing you to print not only on thicker materials, but also on a wider variety of shapes by incorporating a more diverse assortment of jigs.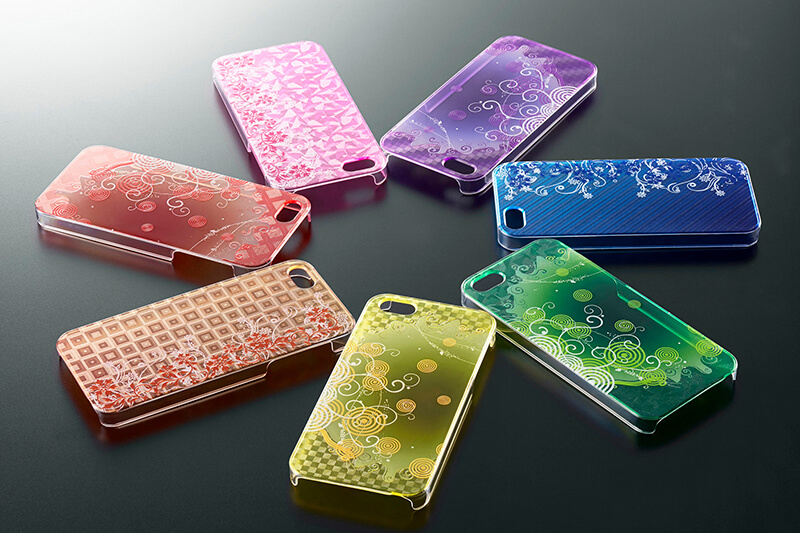 With the LEF2 series, you can print several items or as few as one at a time on demand. This important feature gives you the versatility to create prototypes, check the finish of a printed image, produce a special one-of-a-kind gift, or print a small volume of items in-house.
A Choice of Productivity and Printing Areas
The LEF2 lineup includes three models with different work sizes and printing speeds. Choose the one that best suits your work volume and the size of the material you wish to print.
High Reliability and Safety
The LEF2 series adopts a new cleaning system for improved operation and reliability. A Head Refresh feature removes any ink remaining on the printheads and cleans the printhead surface to maintain the health of your printer.
Should a printhead clog, a new Nozzle Mask function allows you to continue printing while using the remaining part of the printhead. An airtight cover protects operators from UV light and prevents dust from settling onto the surface of materials while printing. The LEF2 series UV printers require no special electrical requirements, are simple to operate and run safe, clean and cool.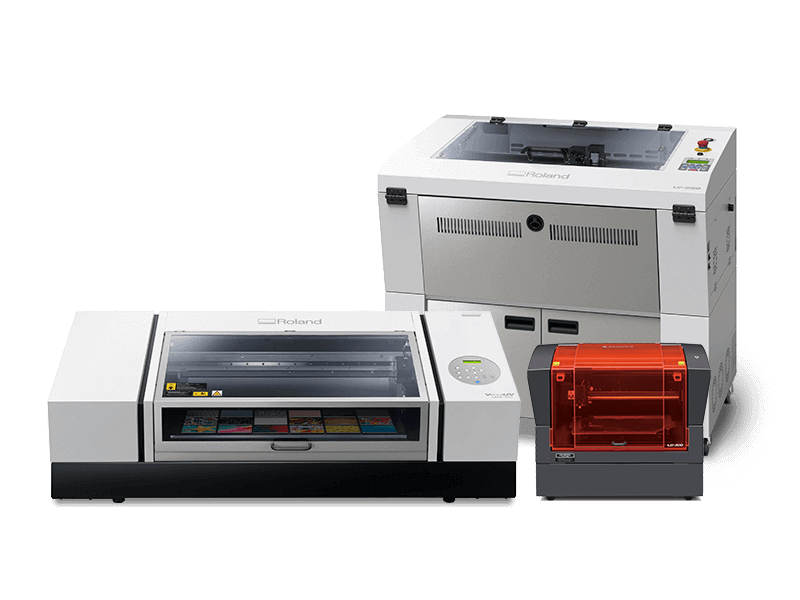 Expand Your Print Business with Other Roland DG Products
With the addition of our Laser Engraver LV-290/180, you can quickly cut or engrave UV-printed plastic sheets. With the LD series Laser Decorators, you can easily add metallic foil effects on UV-printed paper, plastic and leather. The breadth of applications you can produce can be greatly expanded to realize a highly profitable printing business.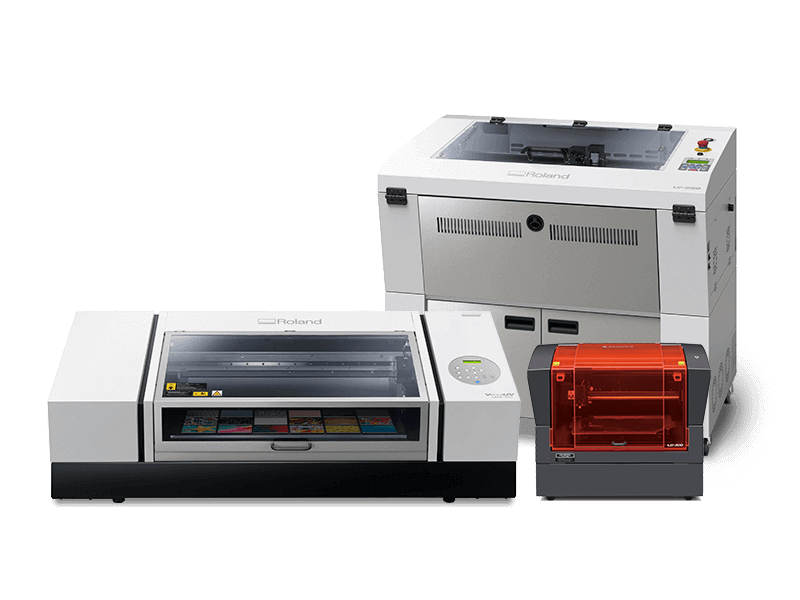 Intuitive VersaWorks 6 Ensures Efficient Production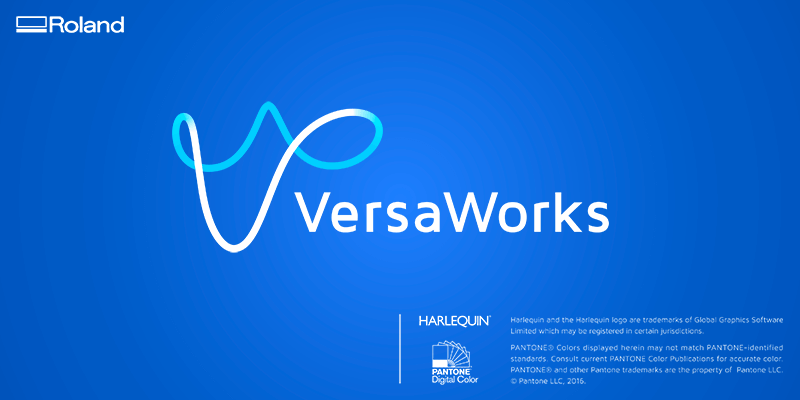 The LEF2 series includes the latest VersaWorks 6 RIP & Print management software equipped with a user-friendly menu of functions to maximize performance so that high-quality printing can be performed immediately after installation.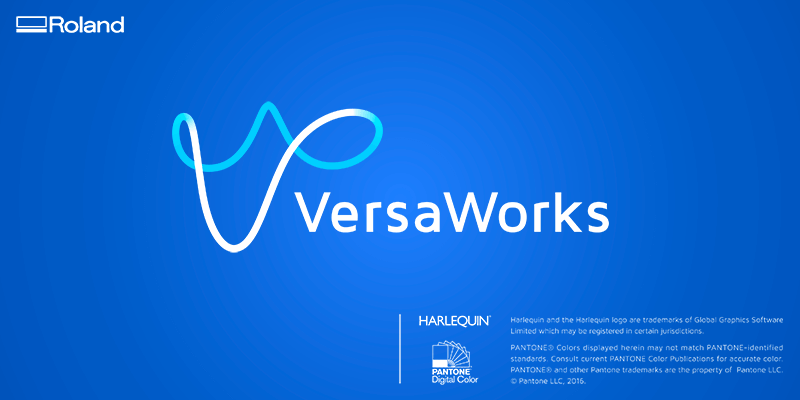 A Harlequin RIP dual-core engine with support for PDF 2.0 and native 64-bit processing provides accurate rendering of PDFs with shadows and transparencies.
Icon-based interface with drag-and-drop functionality facilitates ease of use.
VersaWorks 6 supports data rotation and a partial print function that maintains position information.
Special Color Plate Generation allows you to auto-generate White, Gloss and Primer layers with one button.
Equipped with a spot embossing function to speed up printing of 3D embossed effects (supported only for the CMYKGlGlWh ink configuration on the LEF2-300 and LEF2-300D).
A color-matching function allows easy color matching for same-models and ink types. Consistent color matching is possible even when sharing print jobs with multiple printer units.*
Also supported are new print queue options, UV post cure within the RIP and new 16-pass print mode (standard 720x720 dpi).
* Valid only when using the same model printers with the same ink type and configuration. Files must be printed with the same print settings including "Media Type" and "Print Quality."
Compatible with cotodesign software
When combined with cotodesign, Roland DG's latest design and print management software, the LEF2 series becomes a complete design-order-print solution for the in-store customization of gift items using customers' data, such as photos or artwork from their smartphone. cotodesign also supports additional Roland DG devices, allowing businesses to use it for a wide variety of applications and events.
Additional Information
LEF2 Series

LEF2-300D

LEF2-300
LEF2-200
Printing method
Piezo ink-jet method
Attachable objects to be printed on
Width
Max. 800 mm (31.5 in.)
Max. 538 mm (21.2 in.)
Length
Max. 360 mm (14.2 in.)
Max. 360 mm (14.2 in.)
Thickness
Max. 200 mm (7.87 in.)*1
Max. 100 mm (3.94 in.)
Max. 100 mm (3.94 in.)
Weight
Max. 8 kg (18 lb.)
(When using an additional table: Max. 2 kg (4.4 lb.))
Max. 8 kg (18 lb.)
Max. 5 kg (11 lb.)
Maximum printing width/printing length
Max. 770 (width) × 330 (length) mm (30.3 × 13 in.)
Max. 508 (width) × 330 (length) mm (20 × 13 in.)
Ink
Type
ECO-UV (EUV, EUV4) 220 ml cartridge, ECO-UV (EUV4) 500 ml cartridge (White ink is not available in 500 ml cartridges.)
ECO-UV (EUV, EUV4) 220 ml cartridge
Colors
Six colors (cyan, magenta, yellow, black, white, and gloss × 2)
Six colors (cyan, magenta, yellow, black, white, and gloss) and primer
Five colors (cyan, magenta, yellow, black, and white)
Five colors (cyan, magenta, yellow, black, and white) and primer
Six colors (cyan, magenta, yellow, black, white, and gloss)
Ink-curing unit
Built-in UV-LED lamp
Printing resolution
Max. 1440 dpi
Distance accuracy *2
±0.3 mm (±11.8 mil) or ±0.3% of the specified distance, whichever is greater
Position reproducibility *2
±0.2 mm (±7.9 mil) or ±0.1% of the specified distance, whichever is greater
-
Connectivity
Ethernet (10BASE-T/100BASE-TX, automatic switching)
Power-saving function
Automatic sleep feature
Power requirements
AC100 to 240 V ± 10%, 2.1 A, 50/60 Hz
AC100 to 240 V ± 10%, 1.8 A, 50/60 Hz
Power
consumption
During operation
Approx. 178 W
Approx. 149 W
Sleep mode
Approx. 18 W

Approx. 13 W
Acoustic
noise level
During operation
60 dB (A) or less
During standby
49 dB (A) or less
Outer dimensions
1,560 (W) × 955 (D) × 676 (H) mm
(61.4 [W] × 37.6 [D] × 26.6 [H] in.)
[When the ink-cartridge tray is attached;
1,866 × 955 × 676 mm (73.5 × 37.6 × 26.6 in.)]
1,560 (W) × 955 (D) × 576 (H) mm
(61.4 [W] × 37.6 [D] × 22.7 [H] in.)
[When the ink-cartridge tray is attached;
1,866 × 955 × 576 mm (73.5 × 37.6 × 22.7 in.)]
1,202 (W) × 962 (D) × 549 (H) mm
(47.3 [W] × 37.9 [D] × 21.6 [H] in.)
Weight
166 kg (366 lb.)
144 kg (317.5 lb.)
110 kg (242.5 lb.)
Environment
During operation
Temperature: 20 to 32°C (68 to 90°F) (22°C (72°F) or higher recommended), Humidity: 35 to 80% RH (no condensation)

Not operating
Temperature: 5 to 40°C (41 to 104°F), Humidity: 20 to 80% RH (no condensation)
Included items
Power cord, software RIP, cleaning liquid, drain bottle, manuals, etc.
*1 Use a spacer table for printing targets with a thickness of 0 to 100 mm (0 to 3.94 in.).
*2 Temperature for LEF2-300 and LEF2-300D is 23°C (73°F) and for LEF2-200 is 25°C (77°F). Humidity: 50% RH
This device is capable of printing on a wide variety of substrates. However, the print quality or the ink adhesion may vary according to the substrate used and it is strongly recommended to test the substrate for compatibility to ensure optimal print results.
Vaporized components may slightly irritate the eyes, nose and/or throat during and following printing with this product. If continuously printing in a closed space, the density of volatile compositions will accumulate and may irritate the eyes, nose and /or throat. Roland DG strongly recommends that you install a ventilation system and use this product in a well-ventilated room. For more information, please contact your local distributor or dealer.
VersaWorks 6 System Requirements

| | |
| --- | --- |
| Operating System | Windows® 10 (32/64-bit), Windows® 8.1 (32/64-bit) |
| CPU | Intel® Core™ 2 Duo, 2.0 GHz or faster recommended |
| RAM | 2 GB or more recommended |
| Video card and monitor | A resolution of 1,280 x 1,024 or more recommended |
| Free hard-disk space | 40 GB or more recommended |
| Hard-disk file system | NTFS format |
| Optical drive | DVD-ROM |
| Other | Internet connection recommended |
VersaUV LEF2-300D
VersaUV LEF2-300
VersaUV LEF2-200
VersaUV LEF-12i
Maximum Print Area
30" × 13"
770 mm × 330 mm

30" × 13"
770 mm × 330 mm
20" × 13"
508 mm × 330 mm
12" × 11"
305 mm × 280 mm

Maximum Thickness for Printable Objects:
Max. 7.87 in.
Max. 200 mm
Max. 3.94 in.
Max. 100 mm
Max. 3.94 in.
Max. 100 mm
Max. 3.94 in.
Max. 100 mm
Ink Configuration Options
CMYK + Clear (gloss) + Clear (gloss)+ White

CMYK + Clear (gloss) + White+ Primer

CMYK + Clear (gloss) + White

CMYK + Primer + White

CMYK + White + White

CMYK + Clear (gloss) + White

Included RIP Software
VersaWorks 6
Accessories
BOFA air filtration system (optional)
Ideal For
Ideal for printing on thicker items as well as items whose shapes require jigs for positioning in order to print properly.
Volume production of small to medium-sized items, plus pre-primed printing onto various substrates and unique surfaces.
Short-run customization of small to medium-sized items, plus pre-primed printing onto various substrates and unique surfaces.
Short-run customization of USB drives, smart phone covers, photo frames and other small objects.
Explore LEF-12i