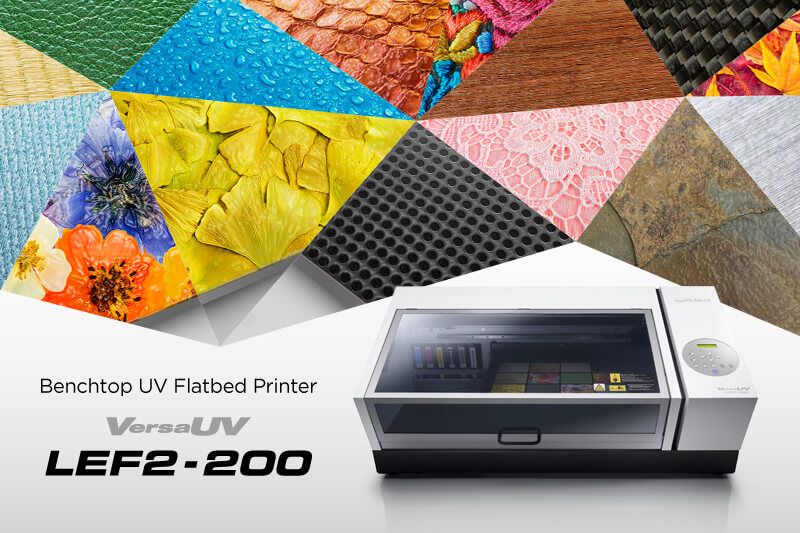 VersaUV LEF2-200 Benchtop UV Flatbed Printer
Now it's even easier to add amazingly lifelike graphics and textures plus premium finishes including simulated embossing on almost anything. The LEF2-200 is the latest addition to our award-winning VersaUV LEF series of flatbed printers. Featuring a 20" print width in a stylish design, the LEF2-200 offers brilliant color printing capabilities on a vast array of materials, including three-dimensional items up to 100 mm (3.94 in.) thick, in a simple-to-operate printer.
The LEF2-200 lets you easily add lifelike graphics, texture, and 3D embossing effects to a wide range of materials.
On Demand Printing on a Wide Variety of Products and Substrates
Print directly on various kinds of materials, including PVC and plastics, canvas, wood, leather and fabric.
Print colorful images on demand for personalizing or customizing small or medium-sized items
Clear ink provides spot gloss or matte finishes as well as upscale 3D embossed effects
Capable of printing around complex corners and curves, advanced Roland ECO-UV inks enable printing on a vast array of shapes and surfaces.
Optional primer ink cartridge provides increased ink adhesion on substrates like acrylic and glass.*
A Start Timer Function completes the setup procedures of printhead cleaning and white ink circulation automatically by a designated time, so you can start printing immediately after loading the materials.
A Head Refresh feature removes any ink remaining on the printheads and cleans the printhead surface to maintain the health of your printer.
ECO-UV ink is available in CMYK plus Clear and White
*For best primer results, it is strongly recommended that users test for adhesion on specific substrates prior to final production.
Choose an LEF to Suit Your Budget and Your Business
VersaUV LEF-12i
VersaUV LEF2-200
VersaUV LEF-300
Maximum Print Area
305 mm × 280 mm
12" × 11"
508 mm × 330 mm
20" × 13"
770 mm × 330 mm
30" × 13"
Ink Configuration Options
CMYK + Clear (gloss) + White

CMYK + Clear (gloss) + White

CMYK + Primer + White

CMYK + White + White

CMYK + Clear (gloss) + Clear (gloss)+ White

CMYK + Clear (gloss) + White+ Primer

Included RIP Software
VersaWorks 6
VersaWorks 6
VersaWorks 6
Accessories
BOFA air filtration system (optional)
Ideal For
Short-run customization of USB drives, smart phone covers, photo frames and other small objects.
Short-run customization of small to medium-sized items, plus pre-primed printing onto various substrates and unique surfaces.
Volume production of small to medium-sized items, plus pre-primed printing onto various substrates and unique surfaces.
Explore LEF-12i
Explore LEF2-200 Features
Explore LEF-300