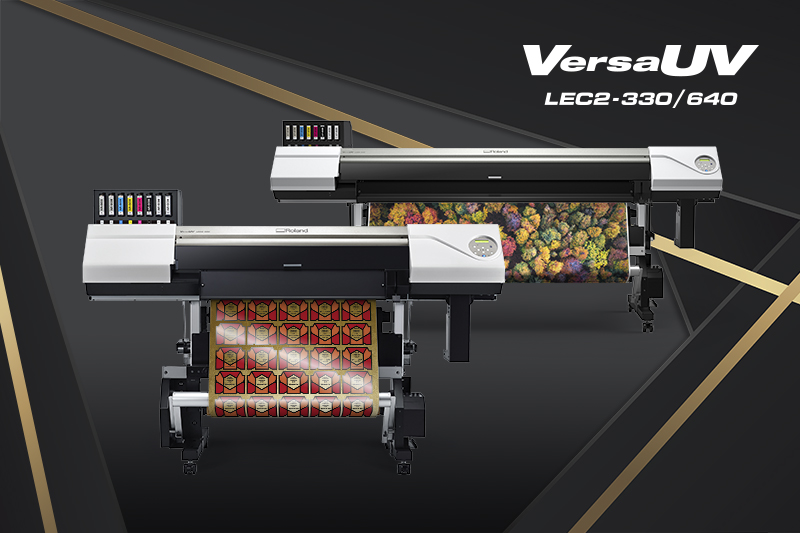 VersaUV LEC2-330/640 Accessories
INKS
| Code | Description |
| --- | --- |
| EUV5-5CY | ECO-UV Ink Cyan, 500 cc |
| EUV5-5MG | ECO-UV Ink Magenta, 500 cc |
| EUV5-5YE | ECO-UV Ink Yellow, 500 cc |
| EUV5-5BK | ECO-UV Ink Black, 500 cc |
| EUV5-5OR | ECO-UV Ink Orange, 500cc |
| EUV5-5RE | ECO-UV Ink Red, 500cc |
| EUV5-WH | ECO-UV Ink White, 220 cc |
| EUV5-5GL | ECO-UV Ink Gloss, 500 cc |
| EUV5-5PR | ECO-UV Primer, 500 cc |
OPTIONAL ITEMS
| Code | Description |
| --- | --- |
| SL-CL | Cleaning liquid, 220 cc |
| ZEC-U5032 | Blades for sign vinyl, fluorescent and reflective film, 2pcs |
| ZEC-U3050 | Blades for thicker material like sandblast, cardboard or thick vinyl, 5pcs |
| XD-CH3 | Blade holders - Resin blade holder with blade depth adjustment |
| XD-CH4 | Blade holders - Adjustable depth blade holder, Alloy tip - Blue, Orange, Red |
| TU4-30 | Automated Take-Up System for LEC2-330 |
| TU4-64 | Automated Take-Up System for LEC2-640 |
| ET-30* | Extension Table for LEC2-330 |
| ET-64 | Extension Table for LEC2-640 |
| TB-30* | Tension Bar for LEC2-330 |
| VW-S1 | Color matching tool for VersaWorks |
*TB-30 and ET-30 cannot be used at the same time.
The Extension Table, ET-30 can help create cardboard packaging or control panels. LEC2-330 in combination with ET-30 can feed* materials between 200g and 300g with a media thickness around 0.25 – 0.40 mm, and the maximum size of 636 x 939 mm.
* Pre-testing is recommended before use.
The Tension Bar, TB-30* can be used to print on thin film used for flexible packaging media such as OPP or PET film. TU4-30 is required with TB-30 in order to function correctly.
Feedable media specification:**
- media thickness between 30μm and 50μm
- media width between 688 and 762mm
- media with anti-static treatment
- corona treatment*** on print surface
*You cannot cut, or do any operation that requires back-feeding of the media when printing with the TB-30.
** The correct media feeding is affected by several conditions, for that reason pre-testing is required before actual use.
*** Corona treatment; surface modification method to change properties on surface by corona discharge plasma. This improves printing characteristics such as wettability.
Optional Deodorizing System
An optional deodorizing system is available for the LEC2 series. This includes an activated carbon filter which effectively removes the odor and volatile substances that occur during printing. This unit can be placed easily.
Easy New Color Matching
Tools with VersaWorks 6
The following new features offer an easier and more intuitive way to match color output.
Printer Color Match Settings integrates profiling tools such as the i1 Pro3 and new VW-S1 color measuring tool— matching color output between different printer models as well as different print modes output from a single printer
Measurement Tools Support for the latest X-Rite i1 Pro3 color measurement tools
Simulation Profile Management for establishing RGB or CMYK output from a reference printer to create an output profile for a target printer